While the focus of this project may have been DTLA's Broadway back in its prime, I could not help but wonder what it must be like in its current state. As someone who grew up in Los Angeles, I was always told never to go Downtown. So naturally as a college student, I had the urge to explore this "forbidden" place I had heard so many stories about. What I found astonished and delightfully surprised me. While the history of Downtown has had its up and downs, Broadway right now is flourishing in a way that hasn't been seen since (most likely) its inception. There is such a mix of new and old blended together, with so much more being created and reimagined, that I was more than excited to help bring this community back to life. 
Since our director, Anthony Caldwell, had already created contacts with many members working to conserve the theaters Downtown, I decided to focus my energy in creating a more permanent network among those fighting to keep the legacy of Broadway alive. Using the already set up network, we worked closely with Escott Norton of the Los Angeles Historic Theater Foundation, as well as members of Councilman Jose Huizar's Office to create a network with which we would gladly answer any questions or discover any stories that they had wondered about. Week by week I reached out to these groups for questions, and they reached out to us asking for help on their projects. This has proved to be a successful way to keep together other members who are just as dedicated to preserving the Historic Theater District and find a way to create a natural courtship between all working members.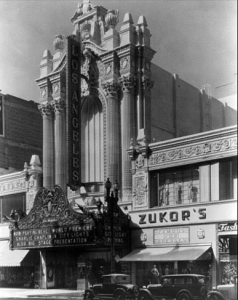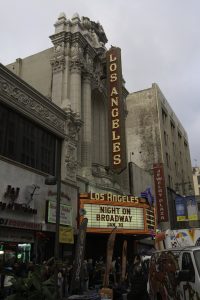 In addition to working with members of the community, I created a more complete history of the famous landmarks of the Historic Theater District so that anyone who wanted to discover and explore these locations could do so on their own time. This guide uses information already provided from Mr. Caldwell's research and knowledge of these buildings, as well as information given up by the buildings themselves. The history behind many of these buildings provides a rich backstory of the founding of Los Angeles and all of the important individuals who helped fund and create the landscape of the city. By walking through the guide, you can see these buildings now and compare their history as it was in its past.
By reaching out to the members working to preserve the history of Broadway, and working together,  we can fully restore and preserve the legacy of Downtown Broadway, as well as remind the modern generation of its importance to this wonderful city we call home.
Special Thanks to Anthony Caldwell, Deidre Whitmore, Miriam Posner, Escott Norton, and Ari Simon of Jose Huizar's Office.